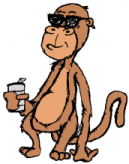 Name: Komo
Specal Matter: A little monkey
About: Komo is young and mischevious monkey. His parents were accidently killed by The Crocodile Hunter (Before he went Hollywood) when Komo was just a baby, he was then looked after by his Uncle Koko until Koko's untimely death.
Liesure Wear: Since a monkey's favorite past-time is flinging it's feces, Komo generally prefers to go naked, but he keeps some sunglasses around because they make him look cool.